Black Session #010
Retrouvez ici toutes les informations sur la black sessions #010 de The Adventure Babies !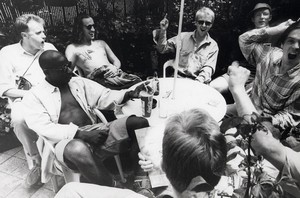 Black Session #010 - The Adventure Babies

enregistrée le 30/06/1992 au Studio 105
diffusée le 30/06/1992
morceau diffusé en direct morceau coupé morceau non diffusé en direct morceau rediffusé reprise d'un autre artiste vidéo du morceau
Titre : We're just come back... after the news
le xav le 12/09/2011 15:35:14
Quel claque cette BS... Et Camper Van qui se termine juste sur l'indicatif du journal de 22 H... quel timing !!!!
Titre : La grande Classe
Frenchducks le 26/08/2011 20:51:42
100 coudees au dessus de nombreux autres groupes qui ont connu un destin plus favorable.
Titre : Excellente
gilles le 27/07/2007 23:49:38
Effectivemment, superbe black session. J'ai ecouté en boucle cette BS sur K7.
Titre : subliiiiiiiiime
edgar le 13/07/2007 21:45:54
ah cette session restera pour moi certainement une des meilleures, avec le sublime "only way" pour terminer !!!
Titre : très pop
oliv le 29/06/2007 08:05:40
J'ai adoré cette black session sur laquelle on peut entendre le fameux Barking Mad excellent titre des Adventure Babies et également Captain Scarlett. La pochette de leur disque a super mal vieilli par contre.
---